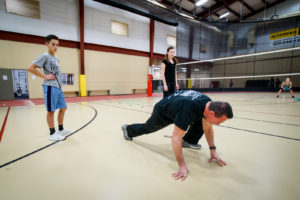 When you sign up for a monthly membership with EastSide Centre, you can take advantage of a wide variety of top-notch classes, equipment, and more! EastSide Centre offers the fitness center and memberships that East Peoria, IL, residents continue to rely on, year after year. EastSide Centre is a reputable, well-renowned athletic facility and fitness mecca. We not only offer exceptional fitness knowledge and expertise, but also provide a space for several local high school and middle school sports teams. We even host tournaments on the national, regional, and local levels!
Have you been thinking about taking up regular exercise? This is an excellent choice for many reasons, and EastSide experts can help you on your fitness quest. We offer the fitness center and memberships that East Peoria, IL, locals depend on, trust, and love. Exercise is one of the best gifts that you can give your mind and body! Here are just some of the advantages that come from being active:
The Benefits of Exercise
Exercise can greatly improve your sleeping patterns and energy levels.

Do you toss and turn at night? Are you energy levels constantly flagging? Then exercise is one of the best things you can do for yourself! It's been proven time and time again that better sleep and energy correlate directly with how much exercise we get.

Greater fitness leads to more confidence.

Want to feel better about yourself almost

instantly?

Get a good workout in! The more you exercise, the better you'll feel and look — and the more confident you'll become.

When you exercise, you get happy.

When you work out, endorphins are released in your brain. So, what does this mean? Endorphins are the chemicals that make us happy — this means that when you treat yourself to a gym session at EastSide Centre, you'll actually become happier!
Contact EastSide Centre Today
Want to learn more about what we offer? Call EastSide Centre today at (309) 698-4715!