**GROUP EXERCISE CLASSES ARE TEMPORARILY CLOSED**
GROUP EXERCISE PUNCH CARDS – EastSide is selling Group Exercise 10 Class Punch Cards to NON-MEMBERS. The normal drop in rate for a Group Ex class is $5.00, however, this card will get you 10 CLASSES for $30.00 ($3.00/class). These are good for all Group Exercise Classes. Have a question, Please Contact: Barbie Tiesman (309) 427-7774.
PILOXING – A unique blend of standing Pilates, Yoga, and controlled kick-boxing! Piloxing combines the power, speed, and agility of controlled kick-boxing with the beautiful sculpting, toning, and flexibility of Pilates and Yoga into a calorie blasting, core focused, challenging, and interval cardio workout that tones and shapes the body in only 45 minutes!
BODYPUMP – This weight training class will strengthen all your major muscles with simple, athletic movements such as squats, lunges, push ups, presses and curls, BODYPUMP is for 12 years and older and all fitness levels. Barbell weights and dumbells are utilized. All weight training in an endurance format. (55 min.)
Turbo Kick – The ultimate challenge for your heart and entire body! This class is complete with intervals of intense heart rate-raising activities, easy to follow combinations and kickboxing-specific strength/endurance training, and a Yoga-like cool down. Top it off with a complete abdominal workout. This is the pinnacle of kickboxing programs. (60 minutes)
Fusion – A creative freestyle blend of cardio, utilizing the step, and strength training, utilizing not only body weight exercises but also exercises that use various equipment. Taught in an interval style in order to maximize the fat burning and in order to increase the metabolism throughout the rest of the day as well. (60 min.)
Spinning – Each session has a specific purpose and is carefully designed and timed to energize, challenge and empower students to achieve their health and fitness goals in 45 minutes. Every class is different and adaptable to an individual fitness level. (45 minutes)
Ripped –"The One Stop Body Shock!" This high energy workout combines an easy, yet effective cardiovascular routine interlaced with weights and resistance. It is fun and created for all fitness levels. (60 minutes)
P90X – ALL WEIGHT training. A total body strength and conditioning class created by Tony Horton, that is based on proven principles from personal training and strength coaching. Ultimate variety that will allow you to bust through fitness plateaus. (60 min.)
CORE DE FORCE – A total body workout inspired by MMA-style training. Combines western Boxing, Kickboxing, Brazilian Jiu-Jitsu, Muay Thai, and more. Non-contact. No equipment. NOT self defense. HIIT intervals using skill-based cardio training. Body weight training which utilizes the core. Musically driven, but doesnt move to the beat. Come fight yourself into extreme shape. (60 min.)
Zumba –Zumba® program is all about – an exhilarating, effective, easy-to-follow, Latin-inspired, calorie-burning dance fitness-party™ moving millions of people toward joy and health. (60 minutes)
Cardio Fit –Geared for the mature adult and anyone wanting a low-impact workout and fun fitness training experience, this class emphasizes a no-impact floor routine in order to strengthen the heart. Tools such as hand-held weights, elastic tubing with handles, and a ball may also be utilized in order to increase muscular strength and endurance. A chair may be offered for support, stretching and relaxation exercises, but is not required to be used. This class is the next step up from Silver Sneaker Fitness Program classes. All are welcome, EastSide members as well as Silver Sneaker members. (45 minutes)
Yoga/Pilates –This class takes a unique approach in developing and utilizing a progressive series of combinations, exercises, and variation flows of Pilates and Yoga. It includes some standing poses as well as some floor exercises designed to work the core (mid-section) of the body. (55-60 minutes)
Pound – Pound is a full body cardio jam session, combining light resistance with constant simulated drumming. The workout fuses Cardio, Pilates, strength movements, plyometrics, and isometric poses. Through continual upper body motion using lightly weighted exercise drumsticks, called Ripstix, you'll turn into a calorie-torching drummer. No experience needed.
PiYo Live – PiYo Live is a unique ATHLETIC flow of Yoga and Pilates combined to great upbeat music. Get not only your heart moving, your body warm, but also become stronger and leaner. This is a formatted class from Beach Body, the creators of Turbo Kick and Insanity. (60 min.)
Classes are offered Monday through Saturday and taught by certified instructors.
Silver Sneakers Fitness Program –The Silver Sneakers Fitness Program is offered at EastSide Centre in partnership with the Humana health plan. Each member of our fitness center is entitled to a basic membership at the fitness center, including the new Silver Sneakers classes.
The program was created and is owned by HealthCare Dimensions Inc., a national health care services company specializing in the design and management of preventive benefit packages for health plans, particularly for Medicare-eligible populations.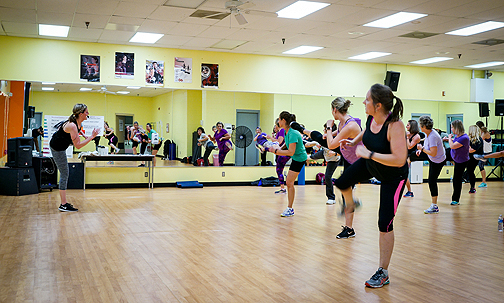 The Silver Sneakers Fitness Program provides non-impact exercise classes, tailored to each participant's fitness level, for those who are Medicare-eligible age 65 and older, as well as those who are disabled and on Medicare.
The classes are easy on the joints and appropriate for those who exercise regularly as well as those who may not have exercised in years.
The classes utilize hand weights, elastic tubing with handles, and a ball for resistance. Many of the exercises are chair-based for seated and/or standing support. The exercises are designed to improve strength, flexibility and the ability to perform daily activities such as getting out of the car or lifting grandchildren.
Silver Sneakers – Classic: Have fun and move to the music through a variety of exercises designed to increase muscular strength, range of movement, and activity for daily living skills. Hand-held weights, elastic tubing with handles, and a ball are offered for resistance. A chair is used for seated and/or standing support. (45-60 minutes)
Silver Sneakers – Circuit: Combine fun and fitness to increase your cardiovascular and muscular endurance power with a standing circuit workout. Upper body strength work with hand-held weights, elastic tubing with handles, and a ball is alternated with non-impact aerobic activity. A chair is offered for support, stretching, and relaxation exercises. (45-60 minutes)
Silver Sneakers – Yoga: Yoga Stretch will move your whole body through a complete series of seated and standing yoga poses. A chair support is offered to safely perform a variety of postures designed to increase flexibility, balance and range of movement. Restorative breathing exercises and a final relaxation will promote stress reduction and mental clarity. (45-60 minutes)