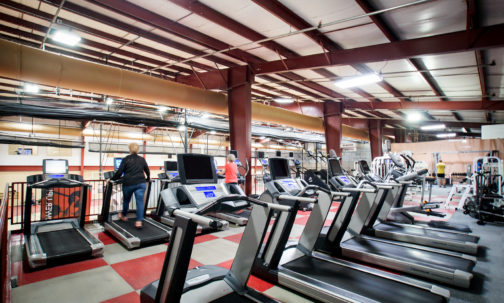 Indoor Facility
Located on the bottom level of the fitness center you will find 3 basketball courts that are 42' x 70' in size that are able to host a wide range of events. It is able to have up to four 18U volleyball courts going at one time. 8 sets of bleachers are available as well as tables, chairs, restrooms/locker rooms, PA/music, and easy garage door access for larger items. Our 20,000 sqft gymnasium can be used for a number of different sports/events. Both the playing surface and track are made of a rubber/sport court material.
Indoor Batting Cage
The batting cage is located inside the fitness center on the bottom level. There, renting parties will have access to a 60' x 20' area for them to use. It comes equipped with soft toss nets, one L screen, 2 hitting tees, a batting practice area, and one throwing lane. Baseballs/softballs available upon request.
Indoor Running/Walking Track
The indoor track is 125 meters in length with a softened rubber material. The track has 4 individual lanes and can be separated from the basketball/volleyball courts with divider curtains when needed.
Fitness Center
Our fitness center boasts over 6000 sqft in size and offers two levels with strength and conditioning equipment. Fitness members are able to use our indoor/outdoor tracks, free weight area, cardio and strength equipment, and locker rooms. Fitness memberships also include unlimited attendance to our Group Exercise classes. No matter your level of fitness or experience – EastSide Centre has the equipment you need to find the results you are looking for!