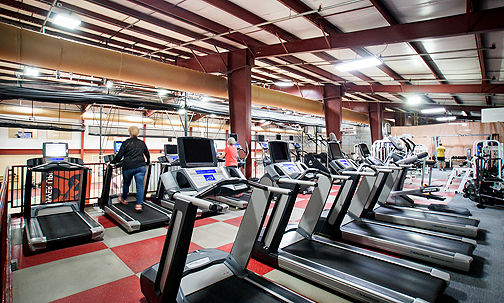 Fitness Centre Hours
Beginning March 4th, 2019:
Monday – Friday – 5:00am – 9:00pm

Saturday & Sunday – 7:00am – 5:00pm
EastSide Centre fitness center is closed Thanksgiving, Christmas Day, New Year's Day and Easter; limited hours on some holidays.
Fitness Center Amenities: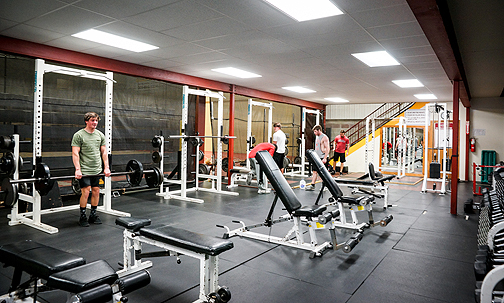 Indoor/outdoor track
Free weight area
Treadmills and tread climbers with TVs
Ellipticals with TVs
Arm ergometer
Rowing machine
Nautilus strength equipment
Paramount strength equipment
Stationary bikes
Recumbent bikes
Stair climbers
Circuit stations
Personal trainers
Sci-Fit – three pieces of equipment that run on a personalized key for every fitness level, providing both a cardio workout and resistance training for the entire body in 30 minutes!
Locker rooms with showers
Free on-site babysitting service (for parents who are working out or taking classes)
Membership Orientation
All fitness club members should take part in this program, which is designed to acquaint them with the services and benefits available at EastSide Centre. During the orientation, a personal trainer or other staff member will guide the member around the fitness center, telling them what they are entitled to as a member of the club. During this time, all the machines will be demonstrated and any additional questions will be answered.
Memberships as low as $26 per month!! Call 309-698-5437 or stop by and ask for more details!
Ready to join one the best fitness centers in the Peoria area? Come to EastSide Centre in East Peoria, and you will find a great facility for working out and getting into shape! Exercise is good for the body, but did you know that exercise is also good for the mind? Research has shown that regular exercise delivers a mental and emotional boost. It improves your mood, bolsters your self-esteem and gives you the confidence to handle whatever comes your way. Some studies hint that it also enhances the functioning of the brain. So whether you are interested in shedding some unwanted pounds, remaining physically fit or being energetic for the rest of the day, finding a good fitness center may be just what you need.
Check out East Peoria's state-of-the-art fitness facility, EastSide Centre. Initially conceived as a local family sports and recreation center, EastSide has become one of the premier athletic and fitness centers in the Midwest. EastSide Centre offers a free weight area; fitness equipment including stationary bikes, stair climbers, treadmills and circuit stations; an indoor/outdoor track, group exercise classes including Group Power, Turbo Kick, step aerobics, yoga and pilates; personal trainers to help you devise the perfect fitness plan; tae kwon do martial arts classes for children and adults; and the SilverSneakers Fitness Program for seniors.
If you have a lot of stress on the job, finding a fitness center could start to turn your fortunes around. Chronic stress releases a number of different chemicals and hormones into the body that increases blood pressure, weakens immunity to colds and illness, impairs memory, increases fat cell storage, and leads to depression. Regular physical activity has been shown to be an effective stress-buster and successful weapon against its debilitating effects. The set of beneficial chemicals and hormones released during exercise are an important arsenal that can defeat the negative chemicals created by stress.
EastSide Centre is a premier fitness facility dedicated to serving those living in and around East Peoria. Call today at (309) 698-5437!