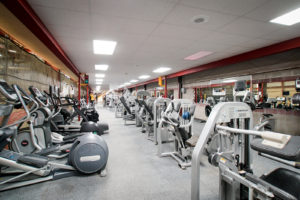 Here at EastSide Centre, we're the premier athletic facility and fitness center that East Peoria, IL, residents can count on. Not only do we offer highly personalized fitness sessions and state-of-the-art workout equipment & space, but we also provide our members with a variety of group classes. Check out some of the classes we offer:
EastSide Centre Classes
Yoga/Pilates.

Our top-quality yoga & Pilates class combines yoga poses and Pilates stretches to create a holistic, athletic course that targets the whole body. This class incorporates various standing poses and floor exercises in 45 minutes of fun.

Group Power.

Want to get a good, sweaty workout in? Group Power is your best bet! This "power"-focused class strengthens all your core muscle groups, in a fantastically motivating environment. Come ready to work for this 60-minute class — and be prepared to see almost-instant results.

Piloxing.

Piloxing is a fabulous, unique blend of Pilates, yoga, and…kickboxing! That's right — Piloxing is not for the faint of heart. However, it's also incredibly effective. If you want to lose weight and tone up quickly, this 45-minute class is a great option.

Zumba.

Want to get your workout on while dancing? If so, Zumba is for you! This 60-minute class features fun rhythmic activities, high-energy Latin-flavored tunes, and a party-like atmosphere. Come join the festive fun at Zumba, where you'll leave lighter and with a smile on your face!

CardioFit.

There's a reason why we're the fitness center that East Peoria, IL, locals love — we're effective at what we do. This exercise class is a prime way to practice a heart-healthy workout!
Contact the EastSide Centre Team
Are you ready to find out why EastSide Centre is the fitness center that East Peoria, IL, residents are talking about? Feel free to get in touch with us, anytime! We're always happy to answer your questions, help schedule your first customized fitness consultation, and tell you more about our services. Call EastSide Centre today at (309) 698-4715. We look forward to speaking with you!