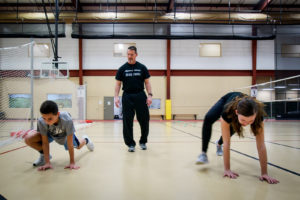 Here at EastSide Centre, we're proud to be the #1 fitness center in East Peoria, IL. Our clients continue to recommend our high-caliber fitness services to friends and family members, and for good reason. We offer quality group aerobics & fitness classes, cutting-edge fitness equipment, and the best bang for your buck — our monthly membership rates are affordable for all.
Here are just some of the premier group classes that we currently offer:
Our Group Classes
Yoga/Pilates.

Combining the impressive benefits of both yoga and pilates, this class takes a unique approach to improving flexibility and stamina through a progressive series of exercises and poses.

Zumba.

This fun and motivating class incorporates exotic dance rhythms and high-energy moves — it's easy and effective. Most importantly, Zumba is always a fun way to get in shape.

CardioFit.

This low-impact, yet effective, class combines stretching and relaxation exercises with important cardio work. Recommended for mature adults.

Group Power.

This barbell program is designed to target all your main muscle areas in a fabulous and motivating group environment. Get ready to get your workout on in this high-endurance class.

Ripped.

Ready to get "ripped"? This high-energy workout class offers a cardio routine that delivers. Get ready to see fast results when you sign up for Ripped (created for all fitness levels).
Every member of the EastSide Centre team takes true pride in helping each of our clients reach their fitness dreams, and get the body they've always desired. Our entire staff is passionate about the numerous benefits of exercise, and we're here to share that passion with the world. We're proud to be the fitness center in East Peoria, IL, that so many people know, love, and trust.
Contact EastSide Centre
Do you want to speak with an EastSide Centre fitness pro, to learn more about our fitness center in East Peoria, IL? Call us today at (309) 698-4715.