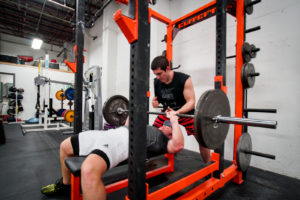 Are you seeking a top-notch fitness center that Germantown Hills, IL, locals trust, for their all health-related needs? Look no further than EastSide Centre — we're one of the top athletic training facilities and fitness centers in the entire Midwest! Our stellar reputation has grown as a result of our quality services. Check out just some of the many advantages that come with a monthly EastSide Centre membership.
Benefits of an EastSide Centre Membership
Access to a wide variety of dynamic group classes, including Yoga/Pilates, dance-heavy cardio work, step aerobics, kickboxing, and more.
The opportunity to take part in our customized personal training program, and to work with our stellar team of highly-training fitness experts.
The use of both an array of cutting-edge fitness equipment and our state-of-the-art facilities.
Access to personalized programs for seniors and children — we also offer several complementary opportunities, like free babysitting for the little ones while you work out.
A family of fitness buddies — every day, our trainers and gym members seek to inspire and motivate each other to work hard, pushing each other to reap the many benefits that come from regular exercise.
Contact Us Today
Here at EastSide Centre, we seek to help you achieve your fitness goals and improve your overall wellness. We implement safe and effective programming to clients of all fitness levels and abilities. We're proud to be the fitness center that Germantown Hills, IL, locals continue to rely on, year after year!
By choosing to work out at a top-caliber gym like EastSide Centre, you're making an important commitment to your mind and body. Prepare to have your efforts pay off substantially! Regular exercise has been consistently linked to better sleep, better mental & physical health, increased energy, and an improved level of overall happiness.
Contact the #1 fitness center that Germantown, IL, locals love! Call EastSide Centre today at (309) 698-4715.