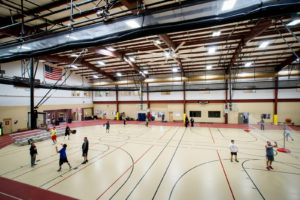 Here at EastSide Centre, we offer premier fitness training to East Peoria, IL, residents! It's our privilege to serve our local communities with top-quality group aerobics classes, state-of-the-art fitness equipment, and one of the best sports training facilities in the Midwest. In addition to our stellar equipment and services, we also employ personal trainers and fitness experts of the highest caliber. Each of our staff members is not only highly skilled, but also passionate about improving the lives of clients through health & exercise!
Memberships at EastSide Centre
EastSide Centre includes a variety of free services and amenities in our monthly membership. We're the fitness training center that East Peoria, IL, residents love and trust — for good reason. We offer various group classes that range from yoga and pilates, to Zumba and more! Our instructors are all well-trained, and eager to work with people of all fitness levels.
In addition to these group classes, we design personalized programs for both children and seniors. Our SilverSneakers Fitness program provides low-impact exercise classes and programs to clients 65 and older; these classes are offered Monday through Friday and are taught by knowledgeable, certified instructors. From all-levels yoga, to circuit training, to dance-inspired classes, there's a little something for everyone who enrolls in SilverSneakers! We also offer FREE childcare services for parents who want to work out without having to care for their kiddos at the same time. Babysitting services are available for 2-hour maximum time increments, for any of our members.
Contact the EastSide Centre Team
EastSide Centre offers premier fitness training for East Peoria, IL, locals' health & fitness needs. We offer a personalized and experienced approach to helping you get in shape, no matter your current fitness level! If you'd like to hear more about our services, give us a call today at (309) 698-4715. Our team is always happy to speak with you and offer their assistance.